Easter Kite Holidays in Cape Drepano, Greece!
Price:
695€
(All Inclusive)
Just book your tickets, the rest is upon us!
Easter Kite Safari in Greece
If you want a really unique kite experience, this is the trip for you! In this Kite Safari there is a guaranteed 90% wind at popular kitespots like Cape Drepano while we'll also kitesurf in flat lagoons, river mouths, do amazing downwinds, and explore uncharted kite spots. We will set our base camp at "Cape Drepano Surf House" and every day we will chase the best conditions for kitesurfing according to your skills.
Kite Safari Pricing - All Inclusive
These are the prices for up to 4 people team. We can customize the trip according to your group and your needs, so don't hesitate to request a custom trip. 
4 Seats Left!
April 10th - 13rd
Airport & Trips Transportation

Accomodation at Surf House

2020 Duotone Test ride Equip.
If you're travelling alone you can join us at our Surf House and take part in all of our daily activities!
Do you have any custom needs? We're open to discussing your plan and making sure we fit your schedule! 
Experience a magical kite safari trip in western Greece chasing the wind.
3 night stay at the Surf House in a large shared bedroom with 2 double beds and a couch.
Transfers from/to airport and trips all included.
Self made breakfast and dinner of your choice!
Safety first! For every kite session there will be a rescue boat available.
Practice and improve your skills with coaching by an IKO certified instructor.
Live like a local and discover unique places, food and local wineries.
Everyday we visit a different kite spot whether at sea or a flat lagoon.
You will have 2020 test ride kites and boards at your disposal. Just bring your harness & wetsuit.
Relax or work on your couch by the fireplace using our high-speed Internet connection.
This western part of Greece and especially Corinthian Gulf are ideal for kiteboarding because of the frequent winds – almost every day.
The home base is at the famous kite spots called Cape Drepano, where 2 min from the beach we have our Cape Drepano Surf House. From there the whole Kite Safari experience begins!
With more than 8 kite-spots around our surf house, we are offering the best conditions for a memorable experience. It's not a touristic area so you will have the chance to leave an authentic Greek experience.
Nice traditional small tavernas, the Greek hospitality, and amazing mountain scenery will make your trip worthwhile.
Moreover, we will explore uncharted kite spots, kiteboarding at river mouths and super flat kite spots.
The area is actually a huge playground where you can go for wreck diving, mountain bike, hiking the amazing Voraikos Gorge or just visit Olympia, the small village where the first Olympic games took place!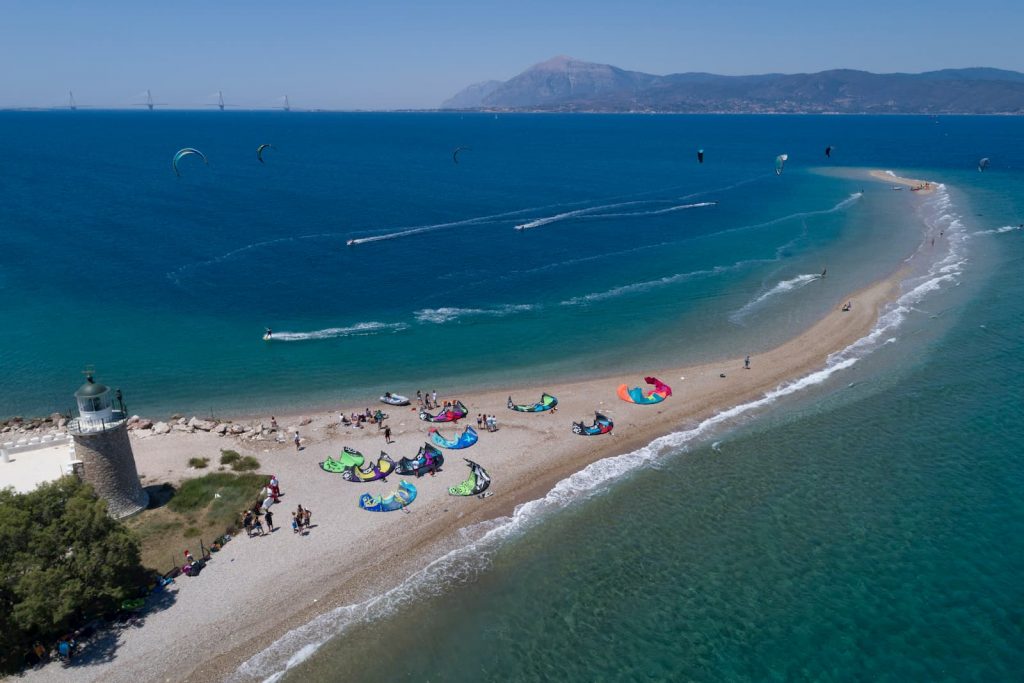 It's a common secret among the Greek Kiteboarding Community that if you want to kite every day, you have to go west to a place that the locals call 'the kiteland'. The western part of Greece is providing an ideal playground for kiteboarding since you can kite almost every day with any wind direction. At the area, you can find famous kite spots like 'Cape Drepano' where you will kite with all the pros during the season like Youri Zoon, Stefan Spiessberger and Paula Novotna, and beautiful downwind cruises in the Corinthian Gulf. Moreover, there are flat lagoons and 3 river mouths which are providing a unique kite scene. Whether permitted we will kite one of the biggest rivers in Greece called 'Acheloos' which was worship like a God in Ancient Greece. The most amazing thing though is the uncharted kite spots at the biggest sea lake in  Greece.
At this area, we have nice thermals and moderate wind early and late at the season (Mar-June and Sep-November)  and high winds July and August when the Meltemi starts blowing. We usually use 9 and 11 sqm kites but a big kite is must for the light wind sessions. The dominant winds are Northwest and East-Northeast. With south winds (not often during the summer) we travel south about 1 hour from our surf house to find some wavy spots. So, actually, we stop kiting only when the mountains are full of snow and its rather cold. With more than 10 kite-spots around our surf house, we are offering the best conditions for a memorable experience.
Frequently Asked Questions
Below you can find answers to the most frequent questions we get asked about the Kite Safari.
During the trip, you will be accompanied with an IKO certified instructor level 2, who will help you improve your skills and riding. This service refers to intermediate and advanced riders but not for experts (wakestyle or dedicated freestyle riders – discount applies). So, during the whole week and every day, you will talk with the kite guide about the problem you face during your kiting sessions or the tricks you want to learn and you will receive tips and instructions on how you will accomplish your goals!
If you are not independent kiteboarder (can't stay upwind, can't recover your board), or you haven't finished you kite lessons, then we can provide kitesurf lessons with 30% discount for everyone in the group. We will provide all the equipment needed (Cabrinha and Duotone 2019-20) and the lessons will be held with radio helmets for communication. All lessons are contacted by certified sailing coaches by the Greek Government or licensed companies for  Kite Equipment rental
Breakfast is self made with local products such as fruits, breads, honey, milk eggs & yoghurt. We can arrange snacks and beverages at the beach during your kite sessions or arrange some nice Greek cooked food back at the surf house. As for dinner we can have a BBQ at the surf house or go out and eat at traditional fish or meat taverns around.
Book Now your Easter Kite Holidays!
Use the form below to fill in your details and our team will contact you!